A#1 Emergency Service Does Carpet Mold Removal Like No Other
A pretty carpet flooring sooner or later could use a carpet mold removal service. Even the sturdiest carpet would eventually lose its glamor without proper maintenance. If you worry about your carpet suffering dirt and damages, A#1 Emergency Service can help you with your carpet cleaning.
Our company is a renowned carpet cleaning agency that tackles different kinds of carpet-related situations. That includes deep-seated dust, mites, stains, and mold. Dirt and stains are major issues to deal with but mold is another serious issue you need to protect your carpet from. No matter how often you vacuum, it seems to find its way causing allergies and mold odor.
Wall-to-wall carpeting often serves as the perfect breeding ground for molds. They survive in these damp environments because they need moisture, oxygen, and dust to survive.  Molds can also produce mycotoxins and allergens that can trigger asthma attack as well as cause dermatitis.
Hiring Carpet Mold Removal Company
Molds are traitors. Just because you cannot see the growth does not mean it is not in progress. When the smell becomes obvious, that is when you know the contaminants are building their camp. A#1 Emergency Service will perform a thorough inspection to identify the affected areas. Afterward, our team will proceed with carpet mold removal after a full mold remediation job.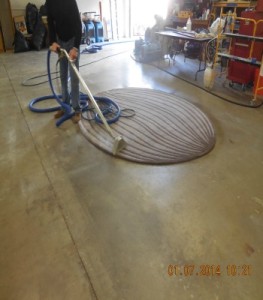 A#1 Emergency Service is a carpet specialist that can remove mold from carpet like it was never there. We have trained men equipped with advanced tools for efficient mold and mold odor removal.
As professionals, we can do the job with precision. We will banish your mold problems that ordinary cleaning methods cannot solve. Our team has the training, the experience, and the equipment needed to make mold history.
Why Choose A#1 Emergency Service
Some DIY (do it yourself) technique cannot remove mold from carpet 100%. Most often, the unpleasant mold odor remains. Homemade mold smell remover will not suffice either.
In removing mold from carpet, our staff uses high-grade carpet mold remover. The chemicals used for mold and mold odor removal are safe and eco-friendly. We also use heavy-duty equipment to remove mold and other ground-in dirt. It means zero mold contamination and mold odor.
A#1 Emergency Service is a reputable company known for carpet cleaning and damage repair services. It has been around for years serving all cities in Orange County. Our company has built its reputation by providing reliable and affordable services.
Call for Free Quote
A#1 Emergency Service is available for urgent or routine carpet cleaning needs. We also work closely with all commercial and homeowners insurance companies and will assist you from start to finish. It also offers other services such as:
Water damage repair
Fire and smoke damage repair
Carpet cleaning
Air duct cleaning
Constructions services
Call A#1 Emergency Service's 24/7 emergency response hotline open to residential and commercial clients from all cities in Orange County. In the case of an emergency, we can be at your home or location within one hour. For a free quote carpet mold removal and other services, call for fill out the request more info form.