Why An Industrial Carpet Cleaning Service is Good for Business
Businesses looking to hire an industrial carpet cleaning company should always pick out one with outstanding record. Your office's interior including carpeted flooring is worth investing. Although it may seem inessential, an industrial carpet cleaning service actually contributes in maintaining a productive and safe work environment.
As a leading name in the carpet cleaning industry, A#1 Emergency Service have all the qualities that commercial clients need to look for.
We have a reliable team of carpet specialists, all trained and experienced in the field.
Our company has been in the business for many years now. We can handle easy to complex carpet problems.
We have advanced equipment and tools for better results.
We guarantee that your carpet gets the best and proper treatment.
Our company aims to meet if not exceed our customers' expectation by delivering high-end results
We can give you better price offers and give value for your money.
Why You Need Industrial Carpet Cleaners
Several other reasons make calling for professional industrial carpet cleaning service more beneficial.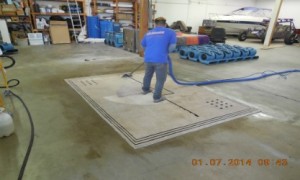 Professional industrial carpet cleaners come prepared with heavy-duty carpet cleaning machines. These correspond to certain types of carpet to protect their fiber structure. They also get the job done faster. When a project involves a large office area, this is necessary.
The selection of chemicals for removing dirt and stains is also an important detail. Wrong choice of products, especially if they do not match the fiber, can destroy its construction.
Industrial carpet cleaning companies take the responsibility of caring for your carpet. But, they also make it a point to use health-friendly treatments. Ordinary carpet cleaning leaves ground-in dirt and contaminants untouched. If taken for granted, be prepared to have higher expense. The goal is to protect your carpet and protect the office's occupants at the same time.
Choose Dependable Industrial Carpet Cleaners
A#1 Emergency Service is a cut above the rest. With its high-caliber performance, fast service, and budget-friendly deals, we are the preferred industrial carpet cleaning company in Orange County. Our company's trained team of carpet cleaners offer exceptional industrial carpet cleaning service. During routine or emergency calls, we dispatch our best men to do the job.
As A#1's expert crew work on your carpeted floors, you can resume business with confidence. We will even help you with the paperwork. Our company works with all commercial and homeowners insurance companies, giving you ease in preparing all the necessary documents for your claims.
A#1 Emergency Service's emergency response hotline is open 24/7. The team is always ready to respond anytime you need emergency help or just routine service. We will be there in an hour in case you need emergency industrial carpet cleaners. Aside from carpet cleaning, it also offers the following services:
Water damage repair
Fire and smoke damage repair
Mold remediation
Air duct cleaning
Construction services
If your soiled carpets are causing you inconvenience, A#1 Emergency Service is the company to rely on. Call us for fill out our request more info form to get a quote. With A#1, you are guaranteed a reliable yet affordable industrial carpet cleaning experience.