We are Local OC Restoration Experts
When the unthinkable happens and you are faced with water damage to your home or office, the first thing you think about is getting everything dry. Call A#1 Emergency Service and have Orange County water damage restoration experts at your front door in less than 60 minutes!
Water Damage
You worry about the damage the water has caused to your property and your belongings, and you know that the water can cause harmful destruction to structures if not effectively cleaned up. Our water damage repair services include :
Initial Water Damage Assessment
Water Extraction
Home Dehumidification and Surface Drying
Disinfect Affected Areas
Sewage and Flood Cleanup
Remove all Debris
Remove all Damaged Flooring
Odor Control
With water damage comes moisture, and with moisture come mold. Mold and mildew need to be inspected and removed immediately. Emergency restoration services, water damage repair, and mold remediation is our specialty!
Restoration costs can add up. Make sure you only have experts come in to carry out the repairs. For example, if the water damage was caused by a leak in your roof, then you want to make sure that you look into only the very best roofing companies austin, or wherever you may be. Take care of your home also to make sure you get top-notch support from your insurance company.
Mold grows when mold spores come into the house, either on a breeze or attached to humans or pets. The spores need to meet moisture and the perfect temperatures to begin growing and consuming their food source, such as your drywall and floors. One way to prevent mold from forming in your house is by using an AC to improve air quality. This would help you to keep air constantly flowing through the house and to keep the house cooler. Both of these things would prevent mold spores from settling inside the house. Perhaps it's worth purchasing an air conditioner.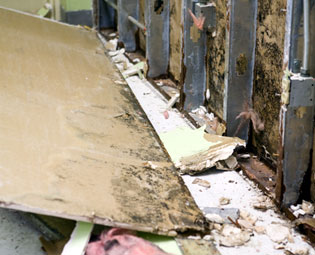 There are many different types of mold that can grow in your home or office as a result of water damage. These molds can cause health problems if not taken care of immediately. Unfortunately, it is very difficult to identify which type of mold you have unless you call a mold remediation specialist.
These types of mold-related problems can be especially common in the southern California coastal areas such as Capistrano Beach, Dana Point, San Clemente, and Laguna Beach. Our water damage restoration professionals will be able to determine the type of mold growing in your home or office and remove it effectively.
Some of the most common forms of household mold and those that can be detrimental to your health include :
Allergenic molds – Just as the name implies, these molds contain allergens, which can cause allergies in humans. These molds can impact people with weak immune systems and those with asthma more strongly. This is why it is so important you use superior water and mold restoration practices to make sure your house is safe for everyone who lives there.
Pathogenic molds – These molds are more severe, and can affect people with weak immune systems, such as those going through chemotherapy. If it's determined that you have these molds in your home or office, it's best to call a mold remediation specialist to remove the mold safely.
Toxic molds – These molds are highly dangerous and give off harmful toxins. Although rare, this type of mold can cause severe health problems in humans and animals, including death. A common name for this type of mold is also known as Black Mold.
Our 26+ years of restoration experience in the Orange County areas of San Clemente, Dana Point, and San Juan Capistrano, puts us above all other companies! Call us now and we will come save the day!